Links
The following are links to other local sites which you may find useful.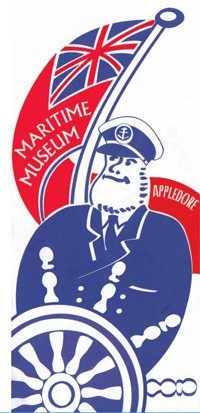 Discover The North Devon Maritime Museum which celebrates the heritage of this once vibrant ship-building village and its world-wide trading links from the time of the Vikings to the latest launches from the Appledore shipyard.
See the special exhibition of top-secret experiments carried out here in North Devon for the D Day landings during World War Two.
The South West Coast Path - www.southwestcoastpath.com - the coast path passes through Instow and Appledore. It is possible to take the ferry across the estuary and link in to the coast path on either side.

The Tarka Trail - www.devon.gov.uk/tarkatrail - take the ferry from Appledore to Instow to join the Tarka Trail to go for a walk or take your bicycle on the ferry.

RNLI - www.appledorelifeboat.org.uk - visit the lifeboat station in Appledore, walk down Irsha Street to the lifeboat station and see the lifeboat in the estuary.

Appledore Book Festival - www.appledorebookfestival.co.uk - the Appledore book festival will be held from 23 September until 3 October 2016. Check the website for the line up of events.

Appledore Instow Regatta - www.appledoreinstowregatta.org.uk - the regatta will take place on 14 August 2016, click on the website to see all the activities during this period.

Boat Stories - www.boatstories.co.uk - a website all about boats, marine life, fishing, boat trips, heritage boats and an events calendar for North Devon.